Monitoring of employees
Department managers and top managers can get a full picture of employees' working days and adjust the distribution of tasks, terms, build effective project teams.
With the help of SecureTower software solution, top management and heads of structural units can get a detailed picture of everyday staff' performance and adjust an appropriate tasks distribution, terms, build effective project teams.
Staff performance supervision enables reasonable distribution of workload between employees in a department, as well as between entire divisions. Convenient reporting system ensures comprehensive data, as well as transparent reports on the department performance to the higher management staff. The analysis of work processes helps to streamline company workforce.

Monitoring of work processes with the help of SecureTower, amongst all other things, allows to monitor employees' communication with customers and partners, carry out analysis and work on mistakes. Apart from this, our solution helps to identify the most efficient and dedicated employees and promote them – so that none of achievement would be unnoticed. Our tool creates such a system of staff supervision that no contact or document will be lost.
SecureTower ensures effective company operation and saves all business correspondence. Moreover, the system tracks the time every employee spends in different software programs, websites and social networks. Based on that data, if the statistics of certain websites visits has increased either sending of notifications or locking up some websites or programs can be arranged.
To monitor employee work processes, the option of message and transferred file capture for e-mail, business communication in social networks and messengers such as Skype, Viber, Telegram is implemented. In addition, SeucreTower tracks all documents, sent by means of internet or e-mail and monitors cloud services such as Dropbox, OneDrive and Yandex.Disk, iCloud and GoogleDrive. Convenient search function by all the captured information enables to find a necessary document in a business communication even by incomplete data within minutes.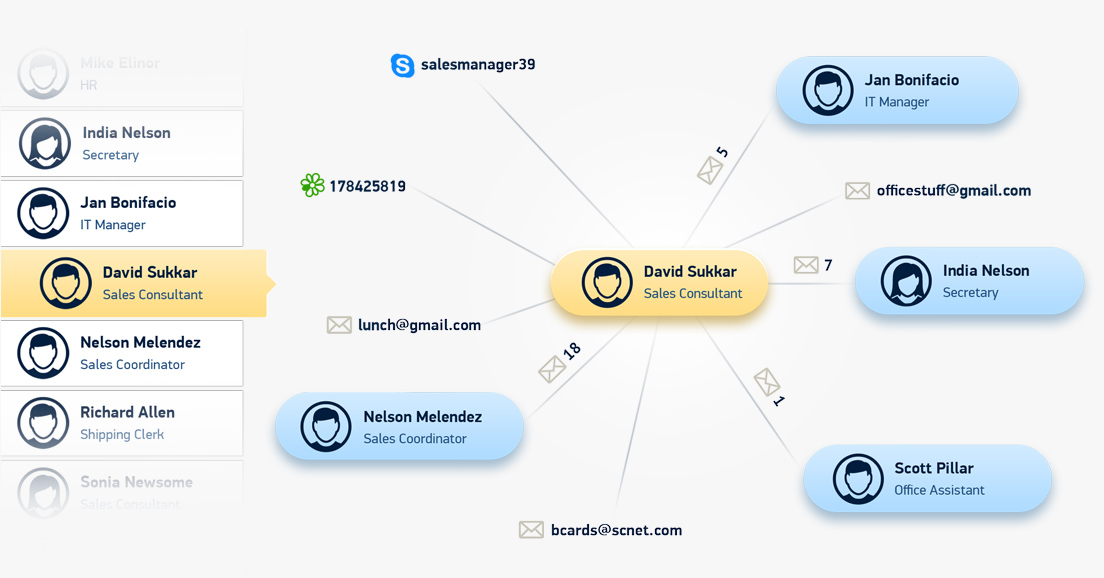 To detect the personnel interactions inside and outside the company, SecureTower uses a graph analyzer, which displays every employee's communication with other people. Moreover, profiles for every employee, linked to Active Directory, are created within the graph analyzer. These profiles show employees e-mail addresses, names in messengers, accounts in social networks an on other websites.
SecureTower also registers the addresses of external abonents and creates profile for them. The system memorizes their addresses and controls their communication with other employees. It ensures quick detection of an external intruder or, for example, a recruiter, working for a competitor company.
All data collected by SecureTower can be presented in completely settable reports with security incidents and daily activities of the staff. Automatical scheduled reporting for top management and security department employees can also be set up.
SecureTower is a tool for protection against internal threats, which is able to have a positive impact on many aspects of company operation: administrative and organizational, economic, reputational, and many others.